Test Prep and Academic Consulting
The Krupnick Approach offers academic and educational assistance to students ranging from middle school
to graduate school who are looking to benefit from additional one-on-one support. We offer in-person and online test prep
and tutoring services for students all over the world.
See what our students have to say about their experiences
I have to admit, I was intimidated to begin working Joe. I am naturally a more shy, introverted girl. However, when I started working with Joe, I was surprised at how quickly I became comfortable in sharing my ideas and asking questions. He pro...
Most of my pre-college, educational life was overshadowed by the "opinions" of uninformed and lazy educational "professionals" and "administrators," who neglected to identify my learning style, because it was more convenient to give a generic d...
Joseph Krupnick is the man. He's the best. I don't know what I would have done without him. Whether you enlist him for academic assistance, test prep coaching, or application support, Joe will *always* have your back. He's the best of both worl...
Joe is amazing to work with. Through thick and thin, he was supportive, patient and flexible. He guided me through my entire college application process-- from figuring out the best school for me, to preparing for the ACT exam and college essay...
Joe Krupnick is the Michael Jordan of ACT tutoring. He raised my score by 12 points! This allowed me to be accepted to the school of my dreams and play basketball. I don't know what I would have done without ...
Joe is the best! His understanding of the ACT is truly incomparable. Most importantly, he is a genuine person that truly cares about his students. In addition to instantly connecting with Joe, I felt like I was able to work well with him becaus...
Without Joe, I would never have been able to feel as confident as I do now about standardized testing! Due to his unique tutoring style, I was able to bring my science score up to a 36. I would really recommend his services to anyone feeling un...
With my busy schedule and keeping up with family commitments, Joe helped me navigate through some of my most challenging classes, especially my final exams. He helped me transform my GPA and also my self-confidence with my academics. If there w...
Working with Joe allowed me to master the skills necessary to take on the science component of the ACT. Joe's nonpareil upbeat attitude and easygoing personality assuaged my nerves surrounding the test and inspired me to work hard on ...
Joe Krupnick was incredibly patient and fun to work with while preparing for the exam. With his expert assistance, my ACT score shot up by 11 points. He should be called the test whisperer!
Although it has been about 8 years since I was tutored by Joe, I still highly rely on the skills that he taught me. He helped elevate both my grades and ACT scores tremendously. His enthusiasm for teaching and working with me was profound – he ...
If you or anyone you know are currently struggling with ACT/SAT preparation and are looking for tutoring/assistance, Joe Krupnick and The Krupnick Approach is the only way to go. After working with Joe as a tutor for many years in high school w...
If you are looking to prepare for the ACT I highly recommend working with Joe Krupnick. In a short period of time I was able to raise my score considerably using his unique approach. There is simply nobody better than Joe for ACT test prep.
Joe served as a teaching fellow for a sociology course on the urban ecology of Boston while I was an undergraduate at Harvard College, in 2009. Through some stroke of luck I ended up in his section. We've maintained good contact since. A few th...
Joe used to tutor me when I was in high school and I really have to say that he helped shape me into the person I am today. I really can't recommend him enough, and while I was working with him I was a straight A student.
The Krupnick Approach allows you to excel when & where you need it the most. If you're looking to improve your personal or academic situation, then don't waste your time or money on a second rate service — just do it right from the start. H...
Joe is a BIG presence in the classroom. He captures your attention, and inspires you to work hard and learn. Never lacking substance, Joe brings energy and excitement to all subjects. He is a true leader in the classroom, which makes him a spec...
I am writing on behalf of a wonderful tutor, Dr. Joe Krupnick. Joe Krupnick has a deep and personal understanding of the unique ways in which students learn. He has a special talent for building relationships with students therefore works wonde...
So, there have been very few times in my life that I don't have the words to strongly enough recommend someone or something. But, such is the case with Joe Krupnick and his company The Krupnick Approach. Joe is, by miles, the best test preparat...
Joe Krupnick is the real deal. Over a six month period, he and his team were able to help my daughter improve her ACT score by 9 points. She's a great student but always had some anxiety when taking tests. The Krupnick Approach helped her build...
I have known Joseph Krupnick for over twenty years, and am well-acquainted with his abilities as a teacher and tutor of adolescents and young adults. As a psychologist who works with young people who have learning issues, Joe is the man I turn...
I've known Joe Krupnick for twenty years. When it comes to improving test scores and getting students into top colleges, he is the man. I've used him with all my children, and even my German niece (who got into the University of Chicago with Jo...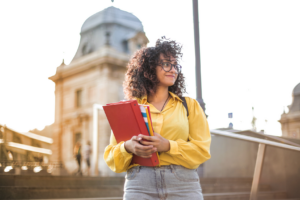 If you are like most people, the prospect of making a choice about where to spend the next four
READ MORE